About Daniel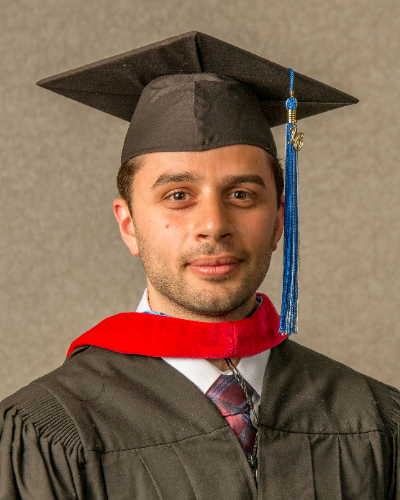 Hometown: West Islip, NY
Education: Mid-America Reformed Seminary, M.Div., 2016; Westminster Theology Seminary, Ph.D., (projected 2020)
Employment: "Stated Supply" at Pompton Plains Reformed Bible Church (URCNA) in Pompton Plains, NJ.
Family: Single


Dan grew up in a Christian home, but was fairly new to the Reformed scene when his pastor, Rev. Andrew Eenigenberg, recommended that he attend Mid-America Reformed Seminary. For Dan, "the timing seemed providential: my undergraduate studies in Manhattan were soon coming to an end and my own sense of calling to the ministry was growing more and more. So, in just over a year, I found myself packed and driving straight west on I-80. I did wonder on the way, 'What is a New Yorker doing in the Mid-West?' Little did I know these next three years would prove some of the most formative and fondest in my life!"
Before he left for Mid-America, Dan came across an article that helped establish what he thinks was the proper mindset for seminary education. Its basic point was that you do not go to seminary, but you are sent to seminary. Why the fine distinction? "The former means you are accountable to yourself because it was your initiative and your success at seminary becomes just that: your success. The latter means you are accountable to the church because it was their initiative, and your success is shared by the whole church." In many ways his home church, West Sayville Reformed Bible Church, made this easy for him. Despite being some 800 miles away, they were a constant source of encouragement and support. His pastor and elders would call and ask for updates every month. Other members would send letters and packages and took a real interest in his progress. Dan also knew all of them were constantly praying for him. He says that "Seminary really is a whole church effort, and I am beyond thankful for the love that was shown to me by my church and family."
Dan remembers one of his first days at Mid-America Reformed Seminary: Dr. Beach addressed the student body about the reality of seminary education and training, comparing the semester to a 400-meter race – it would be a sprint the whole way around. "He was telling the truth. Each semester built up more and more stamina, strength, and discipline in order that we might be prepared for the work that lied ahead of graduation."
Dan found that Mid-America uniquely captures the perfect balance between rigorous theological education and concentrated pastoral training, all for the sake of the glory of Christ and the good of his church. This proved true for himself following graduation in the capacities in which he has been able to serve various churches in preaching, teaching, and counseling, as well as feeling fully equipped and prepared to engage in post-graduate theological work. He further comments that "Mid-America's small ratio of professors to students is what makes this possible as they carefully and lovingly invest in each student and take a real concern in their spiritual and ministerial development. Each week was filled with expert lectures, but also much time spent outside of the classroom with faculty, talking not only theology, but life, ministry, our families, even going to see an Italian opera in Chicago!" Dan also recalls many late nights spent studying or preparing sermons or having bible studies in the library, only to have a thought come to him that he wanted to run by a Professor. "I rarely, if ever, had to wait for an email response. More times than not I could count on Professor Vander Hart being in his office, never too busy for an interruption (or at least too gracious to send me away!). Even after graduation the faculty continues to keep in touch as close friends and storehouses of wisdom."
Along with the faculty, Dan developed close friendships with a number of fellow students that continue to be sources of encouragement and accountability to this day. Says Dan, "There is something about being in the trenches with others that a life-long camaraderie is forged. We challenged each another to bring every thought captive to Christ; we sharpened each other in terms of our ability to preach and teach; and we reminded each other daily of our highest aim in all of it: to glorify God and enjoy him forever."
Beyond just the immediate seminary setting, Dan was amazed at how supportive the surrounding churches were of the Seminary and its goals. There was ample opportunity in the churches for teaching mid-week Bible studies and preaching, as well as seemingly endless Sunday dinner invites that he cherished and misses to this day. He was especially "taken in" by Oak Glen United Reformed Church, who had as much an impact on his development as any other. Also, meeting monthly with his pastoral advisor, Rev. Jacques Roets, always brought the reality of pastoral ministry to bear on his thinking. "At no point did I ever feel that my studies were separated from the life of the church. Rather, over the years I found in myself and my classmates an intensifying willingness and desire both to 'spend and be spent' for the sake of the church" (2 Cor. 12:15).