"One morning my phone rang," relates Tom Vanden Heuvel, one of the pastors. "It was my mother calling from Grand Rapids." She had read a newspaper article
mentioning him in connection with a new seminary and wondered what was going on. Word of the decision had somehow reached central Michigan, where it generated opposition.
Those opposed to the idea called a public meeting in Hull, IA, which was crowded to standing room only. After speaking against the venture, they allowed comments from the audience and were peppered with questions and complaints. "Instead of crushing the movement," Rev. Vanden Heuvel says, the meeting "added impetus and enthusiasm for the proposed new venture."
The concept became reality during 1981. A facility near Orange City came up for sale in March. An organizational meeting was held on April 21 at the Chicago O'Hare Hilton. Seventy guests from as far as Florida and California approved the proposal for a new seminary, pledged support, and formed the Mid-America Reformed Seminary Association. The Association took possession of the Orange City property on May 29, and renovations began. Volunteers organized books for the Seminary library and cleaned the building. Hundreds packed a huge tent for the first annual SemFest on September 4.
One attendee was Florence Kooiman, who signed up to volunteer two days per week, while her youngest child was in Kindergarten. "The Board underestimated how much work there was to do in setting up a new school, so I spent quite a bit of time there in September. In October, Dr. P. Y. De Jong said, 'Flo, you're here so much, I think we should just put you on the payroll.' That's how I started my career at Mid-America."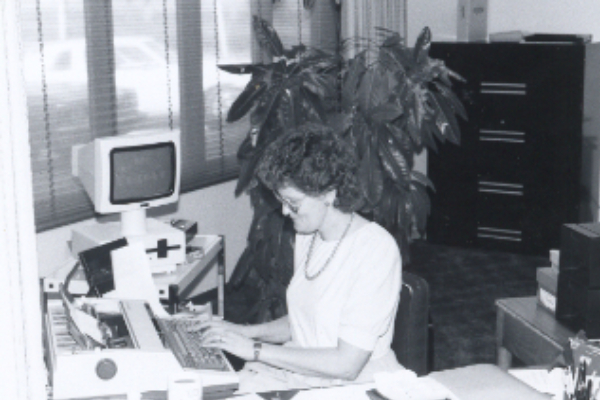 She began as Receptionist, became Executive Secretary, and went on to be Business Manager, before retiring from her position as Vice President of Administration. Over her 35- year career, Florence saw technology transition from "the electric typewriter to a word processor with floppy discs to a computer," while filing documents went from a "metal cabinet to an invisible cloud." Board of Trustees meetings were a highlight for her. "I was always amazed how many men gave up vacation time to attend and serve on the Board of Mid-America," she says. "Such commitment!"
The original Board of Trustees formed an Executive Committee to oversee daily operations. Harlyn Jacobsma, who served as the Seminary's first treasurer, recalls traveling with Tom Vanden Heuvel to meet John Sittema and Stewart Kanis (other Executive Committee members) at a restaurant in Ft. Dodge on some Saturday mornings. Harlyn shares, "What struck me in those early years—and I think it's still true today—is how the Lord always provided what we needed. We never got too much, but we received what was necessary." He adds, "This was a big lesson that translated into my personal life. The Lord provides."
Dr. P. Y. De Jong, Dr. Timothy Monsma, and Rev. Henry Vander Kam served as initial faculty when classes began on September 2, 1982. Four students entered the Seminary, with Roger Sparks and Duane Vedders graduating on May 25, 1985.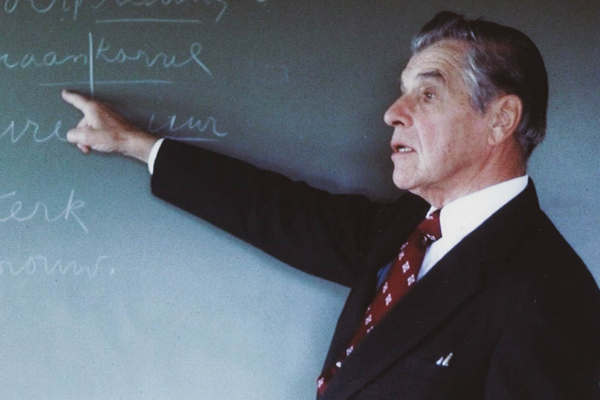 Rev. Roger Sparks (Luverne, MN CRC) admits the Seminary had a few "growing pains" in those early years, but he's glad he chose Mid-America because of its commitment to Scripture and its goal of training pastors with an emphasis on preaching and teaching the Word. "I learned to be confident, not in myself or institutions, but in the Gospel of God's sovereign power and grace," he says. "The Gospel has sustained me through many ups and downs of ministry."
In January of 1983, the Board of Trustees offered an appointment to teach Old Testament studies to Rev. Mark D. Vander Hart. "I came on board clearly as the very 'junior' member of the faculty," he says. "Some of the founders of the Seminary were ministers whose ecclesiastical memories might take them back to the 1920s and 1930s. Not that they dreamed they could re-create that era (even if they had wanted to!). Rather, they believed that the best of preaching and church life back then should be encouraged and promoted today, as much as possible."
He explains, "The Seminary started with the goal of producing men who would be strong preachers in at least two areas: redemptive-historical preaching, coupled with knowledge of, and promotion of, strong, confessional convictions. This arose out of the firm belief that the Bible was the infallible, inerrant Word of God. The sermon should be a kind of 'event,' in which the living Word was once again heard in the presence of the congregations of God and all who might be within ear-range."
Although Rev. Vander Hart's primary focus is Old Testament studies, he was often asked to teach courses in other areas such as doctrine, church history, or ministerial studies. "By teaching outside of the Old Testament I have been personally enriched and my own knowledge was greatly enhanced. I often say, 'The teacher benefits more than the student.' I hope and pray this great privilege helped me in all of my own preaching and involvement in the leadership of the Reformed and Presbyterian churches."
Rev. Vander Hart, who serves as Dean of Students, has come to realize how difficult seminary teaching is. "Over the decades we have had students who were strong in 'book knowledge,' but they were somewhat lacking in 'people skills.' Or vice versa. Working with students who have personal or academic struggles is a great and good challenge, but it is not always easy. The goal is to teach teachable men, who in turn teach others the living Word of God and build up the faith of God's people and work to help disciple the nations."
Rev. Vander Hart has traveled extensively over the years to disciple ministers and lay persons in global locations, notably the Baltics and Myanmar. He also directs the Ministerial Apprenticeship Program, linking students and churches in short-term assignments for mutual benefit.
Dr. Cornelis P. Venema came on board the faculty when he accepted a position as Associate Professor of Dogmatics in 1988. He was inaugurated as President in September of 2001 and also serves as Professor of Doctrinal Studies. He has witnessed the Seminary's service expand among NAPARC churches and beyond.
"When the Board of Trustees decided to relocate the Seminary from Northwest Iowa to the Chicago area in 1995, the goal was to enhance Mid-America's ability to serve a wider constituency of churches that cherish the Reformed confessions," Dr. Venema says. "While the Seminary has enjoyed a close relationship with the URCNA, we now also enjoy a growing relationship with the OPC and other Reformed churches that desire seminary training that is biblically and confessionally sound, but alwaysministerially and vocationally focused."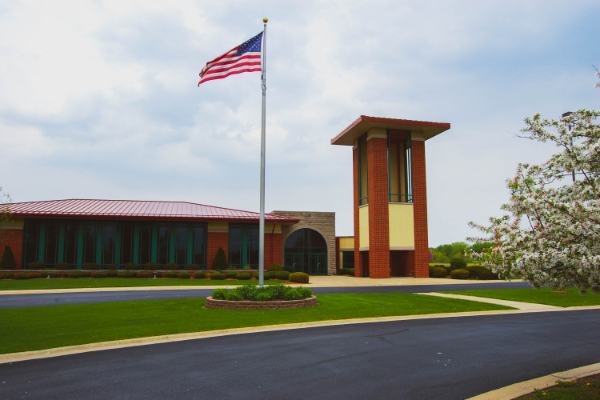 The decision to relocate came in 1992, after years of discussion. A 30-acre parcel of land was purchased in 1993, and the ground-breaking ceremony took place on August 25, 1994. The hope was to open the Seminary's doors in the fall of 1995. As the wait for the occupancy permit dragged on, Flo Kooiman continued managing the temporary office set up in her garage. Finally, the permit was granted at 5:00 p.m. on Friday, September 1. Classes began at 8:00 a.m. on Tuesday, September 5.
Dr. J. Mark Beach, now Professor of Ministerial & Doctrinal Studies, Faculty Secretary, and Managing Editor of the Mid-America Journal of Theology, came to the Seminary in 1997. Dr. Alan D. Strange, Professor of Church History, Registrar, and Theological Librarian, joined the faculty in 1998.
The Seminary was able to begin the year 2000 debt-free. At the "Going Throughout the Earth" celebration on October 29, 2000, several hundred seminary friends witnessed the burning of the mortgage and praised God for His faithfulness. Some of the Seminary's longest-tenured employees joined the staff thereafter. Keith LeMahieu, now Vice President of Operations, began working for Mid-America in August of 2001 as Director of Development. Administrative Secretary Tracy Dopkowski was hired in 2003, and Bart Voskuil became Associate Librarian in 2008.
The past decade has been a period of transition for Mid-America, particularly in the area of personnel. Dr. Venema says, "I am delighted that in recent years three eminently qualified professors have joined our ranks: Dr. Marcus Mininger (New Testament studies) in 2011, Rev. Andrew Compton (Old Testament studies) in 2016, and Dr. Eric Watkins (Ministerial Studies, especially evangelism and missions) in 2020." Dr. Mininger also serves as Director of Institutional Assessment, and Rev. Compton is the MTS Program Director.
"I consider it a privilege to serve as Mid-America's president during this season of transition," Dr. Venema says. "Though I sometimes doubted whether our needs for faculty and staff would be met, the Lord has blessed us with the right people at the right time."
As the marketplace for seminaries grew, so did Mid-America's efforts in public awareness. The need to pursue accreditation with the Association of Theological Schools (ATS) became evident, and in 2010, Mid-America was granted such accreditation. Recently, Mid-America received the longest period of accreditation (10 years) from ATS. Key personnel were sought out in the area of Advancement. Rachel Luttjeboer, Administrative Secretary of Media and Publications, was hired in 2011. Michael Deckinga filled the new position of Vice-President of Advancement in 2016, and Jared Luttjeboer became Director of Marketing in 2018. Brian Blummer joined the Mid-America team as Director of Enrollment Management in 2019, and Sonja Vooys, Assistant Financial Officer, was hired in 2015. Mid-America alumni now serve in at least 10 foreign countries, three Canadian provinces, and 34 U.S. states.
"In recent years," Dr. Venema says, "the Board and Faculty have given considerable attention to how we can best prepare our students to be faithful as 'missionary pastors.' Since Christ 'gathers, defends, and preserves' His church by means of His Spirit and Word (Heidelberg Catechism, Lord's Day 12), ministers are called not only to defend and preserve the churches they serve 'in the unity of the true faith.' They are also called to a ministry of gathering and enfolding the lost." For this reason, the Board recently started the initiation and development of a new missions training institute and search for a Director.
"The initiation and development of the new Missions Training Institute is a wonderful example of the institution remaining true to its stated mission as it responds to the needs of the rising generation," says alumnus and Board President Jim Sawtelle (Redeemer RCUS Golden Valley, MN). "The church's need for the ministry of Christ through His Word and Spirit will never change. Jesus Christ is the same yesterday, today, and forever. But the church and the society in which we live are not static. Prospective ministers must be trained and equipped to serve the church and society of this generation. The Missions Training Institute is designed to prepare ministers to be good shepherds on both of those fronts. The unified desire of the Board and Faculty to be faithful to the original mission in this way speaks volumes about the Seminary's current state."
Dr. Venema says, "Anniversaries are important occasions within God's providence to remember the past and to look forward to the future. In the life of an institution like Mid-America Reformed Seminary, our fortieth anniversary invites us to consider God's faithfulness to us in times past and to look to Him for His provision in the future." He concludes, "We owe a debt of gratitude to our many supporters, both prayerful and financial, as well as the churches who have supported our work all of these years. May God be pleased to sustain this work through your support for many years to come!"
---
This article was previously published in the March 2021 issue of The Messenger.